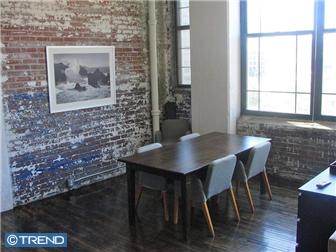 These types of lofts are the epitome of post-modern design. The large windows, refurbished columns, and exposed brick, give a very old building a very hip, urban feel.
Designers spruce up the kitchens with state-of-the-art appliances, and refinish the floor to give it an old look that is still durable. It becomes the perfect backdrop for either a very sleek modern look, or a quirky bohemian feel. The designers here seem to be doing a bit of a combination-style.
These kinds of buildings are fascinating to me. They are built up from such humble beginnings. The combination of old and new is becoming something of a design standard, having been a trend for quite a while in larger cities. But here, location is also key. This particular dwelling is an old shoe factory in the middle of Center City. These kind of loft designs for this area are rather new, and really reflect the artistic vibe of the city.